ENFORCING YOUR IP ON INDEPENDENT WEBSITES
SnapDragon detect and enforce on websites that spoof your brand and defraud your customers
Is your brand being faked online? From replica websites posing as your brand to dodgy third-party suppliers, infringing websites can seriously harm your reputation – while diverting traffic from your official site. Snapdragon detects and takes down illicit websites for you, so you can focus on the task of growing your business. Find out how we do it.
WHAT DO THESE WEBSITES LOOK LIKE?
Depending on the product and intent, fake websites can assume a few different forms. Here are the most common types we regularly identify:
Replica sites
Scammers will create a convincing copy of your website, stealing your brand name, trademarks and copyright to pose as your brand.
Phishing sites
Some fake sites will sell counterfeit goods, but many are simply looking to extract data and steal from unsuspecting consumers, often often offering no real inventory.
Multi-brand
Offering illicit goods, multi-brand websites will infringe multiple brands including your own – posing as independent online shops.
HOW CAN THEY HARM YOUR BRAND?
Diverted traffic
These illegitimate sites can divert search traffic away from your business
Diverted revenue
Fake websites lure customers away, using your intellectual property and tantalising prices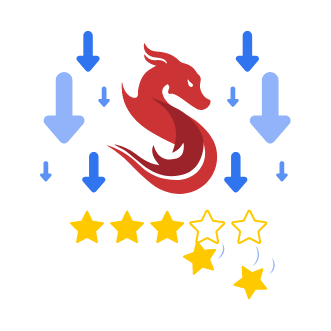 Damaged reputation
Unwitting customers receiving poor quality products, or scammed of their hard-earned money, may complain to (or about) you – harming your business and reputation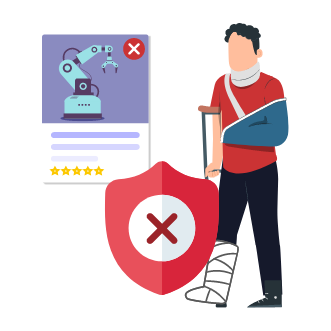 Customer harm
Your customers can be robbed of their money, while others may receive dubious goods manufactured cheaply and dangerously
Trusted by brands to protect their website.
For our clients, we find and takedown fake domains to protect your revenue, reputation and customers from harm.
So how do we do it?
DETECT
We search for websites spoofing your brand on search engines, domain databases and social media.
REPORT AND ENFORCE
Using your intellectual property, we report fake sites to the website owner, host and / or registrar to have them removed.
INVESTIGATE
We identify the seller's identity, look for trends, and target repeat offenders to keep fake websites down for good. We will also provide you with relevant information for any offline action.
WHAT OUR CUSTOMERS SAY
SnapDragon saves me time and money, which is pretty much the holy grail in a fast-growing company. Their reporting is easy to understand and the results real and tangible. SnapDragon allows us to get on with what we are good at and not get distracted by trying to police our IP.
John Hibbard
Founder and CEO
SnapDragon is a great partner for us. They have leveraged our copyright to great success, taking down scores of listings. In addition, they provide investigation and identification of new threats as they analyse the patterns of fake listings and sellers globally.
Simon Newbery
Managing Director, Orchard Toys
SnapDragon have been the find of the year for us. Their work, and passion for it, is priceless. We are extremely lucky to work with them.
Lorna Macaulay
Chief Executive, The Harris Tweed Authority
SnapDragon's solution is focused, cost-effective and responsive. The continual monitoring process regularly identifies infringing items. By using our registered IP they are able to take action against the links, helping prevent infringing products being sold.
Graeme Menzies
CFO, AFG Media
SnapDragon is first class. It was started by someone who made products, got ripped off and tried to fight back. Now they focus entirely on fighting fakes for other people. They take all the hassle away and have software making it a 1000 times more painless than doing it yourself.
Tom De Pelet
Founder
What I like most about SnapDragon is that they are accessible, the reaction time is fast, and the communication is always personal. We book great results with SnapDragon.
Robert Jan Verkuylen
Director of Finance and Technology