INFRINGEMENTS ON SOCIAL MEDIA
Protecting your revenue, reputation and customers on social media platforms
In recent years, we have seen an explosion of IP infringement on social media platforms. The growth of new shopping features and tools has made it easy for counterfeiters to sell their copycat goods, and brand misuse is common. Many brands/prominent public figures are increasingly being misrepresented in fake online profiles used for fraudulent activity. Often, these profiles scam customers, steal personal information and destroy reputations.
Fortunately, there is a way to combat social media fakery – led by our dragons' tireless efforts to monitor, detect and enforce brand misuse every day.
WHAT ARE THE MOST PROMINENT SOCIAL MEDIA INFRINGEMENTS?
Profile impersonation
One of the most common social media infringements is impersonation. In order to do this, copycats will create a fake profile using your brand, including your trademarks, products and copyrighted materials. Another tactic is to clone the profile of one of your employees, posing as them in order to scam your customers.
Marketplace listings
Social media apps often host their own marketplaces or groups where people can buy and sell products online. These are often free to use and very simple to set up. Scammers will take advantage of these forums, using them to promote and sell their fake goods to unsuspecting consumers.
Fake advertisements
With social media's cheap advertising options, bad actors will often pay for sponsored placements and adverts to promote their fake goods, posing as legitimate brands. Typically, these adverts will redirect to fake websites, where customers' money can be stolen.
WHY DO YOU NEED TO PROTECT YOUR BRAND FROM FAKES?
Revenue diversion
We know how much hard work goes into developing your brand and products. Don't let copycats profit from your ideas and innovation.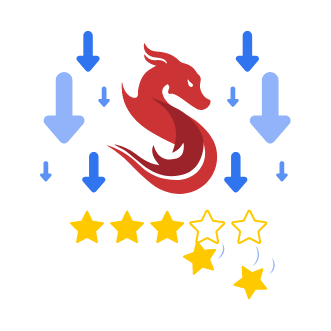 Reputational damage
Often, customers buy copies and counterfeits thinking they are the real thing. Knock-off products harm the name and reputation you have worked so hard to build.
Relationship decay
Leaving unauthorised sellers, counterfeiters and copycats unchecked can damage the invaluable network you have cultivated, with revenues and standards diverted.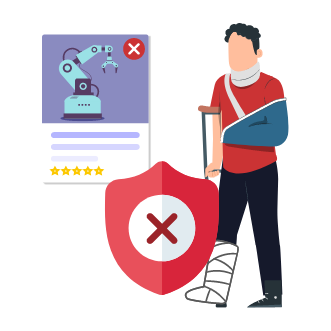 Customer safety
Unlike your brand, copycats don't care about customer safety. Fake goods are typically manufactured cheaply, with the worst offenders using substandard materials and zero safety testing.
HOW CAN WE HELP?
SnapDragon are trusted by brands to protect their revenue, reputation and customers from infringers every day.
We pride ourselves on our high level of customer service and customizable packages. We are not a "one service fits all" proposition, we will work with you to find out exactly where your challenges lie, and create a bespoke brand protection package.
Our Dragons breathe fire to protect your brand online. Here's how we do it.
With SnapDragon's social media monitoring you can keep proactive watch of activity on key social media platforms including Facebook, Instagram, Tik Tok, Twitter, LinkedIn and many more.
More Info
MONITOR
Brand protection is not just a game of "whack a mole". We remove infringing listings and make sure that they stay down while continually monitoring for new listings.
DETECT
With our powerful AI-technology and multi-lingual team, we search the internet's busiest marketplaces to find listings that infringe on your intellectual property.
ENFORCE
Using your intellectual property, we continually report and remove infringing listings from online marketplaces as they arise.
INVESTIGATE
On top of your regular service, we can also perform test an trap purchases, and perform investigations into sellers that you can use as evidence for any offline action.
WHAT OUR CUSTOMERS SAY
SnapDragon saves me time and money, which is pretty much the holy grail in a fast-growing company. Their reporting is easy to understand and the results real and tangible. SnapDragon allows us to get on with what we are good at and not get distracted by trying to police our IP.
John Hibbard
Founder and CEO
SnapDragon is a great partner for us. They have leveraged our copyright to great success, taking down scores of listings. In addition, they provide investigation and identification of new threats as they analyse the patterns of fake listings and sellers globally.
Simon Newbery
Managing Director, Orchard Toys
SnapDragon have been the find of the year for us. Their work, and passion for it, is priceless. We are extremely lucky to work with them.
Lorna Macaulay
Chief Executive, The Harris Tweed Authority
SnapDragon's solution is focused, cost-effective and responsive. The continual monitoring process regularly identifies infringing items. By using our registered IP they are able to take action against the links, helping prevent infringing products being sold.
Graeme Menzies
CFO, AFG Media
SnapDragon is first class. It was started by someone who made products, got ripped off and tried to fight back. Now they focus entirely on fighting fakes for other people. They take all the hassle away and have software making it a 1000 times more painless than doing it yourself.
Tom De Pelet
Founder
What I like most about SnapDragon is that they are accessible, the reaction time is fast, and the communication is always personal. We book great results with SnapDragon.
Robert Jan Verkuylen
Director of Finance and Technology
TALK TO ONE OF OUR BRAND EXPERTS
Are you concerned about copies and counterfeits? Book a quick chat with one of our experts to learn more about brand protection.